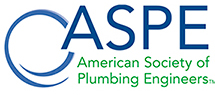 On-demand Webinars
This course will outline the importance of proper firestopping design and recognizing the advantage of manufactured systems. Once the course is over the engineer will be able to recognize the importance of manufactured systems and update plumbing specifications to include manufactured, tested systems.

Register

Non-member - $35
Member - Free!
Member Officer - Free!

This course will highlight technology and product differences across the industry for electric tankless water heaters, including product level components, operation, and system impact. By better understanding how the products work, we can specify them more accurately and avoid field failures from misapplication.

In this presentation, we review the impact of common building water issues, the principles of effective water management, and how automation technology can improve the user experience, save water and energy, and support fundamental legionella control measures.

This one-hour webinar will introduce the basics of actuation that will appear in MEP Design.

This educational presentation provides an introduction to the design of heat pump water heaters and their applications.

Registration Closed. Maximum Number of Registrants reached.

This one-hour webinar presents the basics on valve styles, sizes, materials, and applications.

If you're not in the finance industry, many terms and theories probably sound very foreign to you. Lets learn to make better financial decisions and have an understanding about investing.

Register

Non-member - $50
Member - Free!
Member Officer - Free!

Are you preparing to make a job change and is your resume in need of an update? During this one-hour webinar you'll learn insights from the speaker about optimizing your resume and how to make yourself stand out.

Register

Non-member - $50
Member - Free!
Member Officer - Free!

This webinar provides an overview of available market technology for monitoring and controls in commercial domestic water applications.

The COVID-19 outbreak is showing signs of slowing down, but unfortunately, a different risk is now ahead when opening dormant buildings with stagnant water systems. Several weeks of zero flow or low flow and tempered water can result in an increased risk of legionella, microbiological growth, heavy metals leeching, and increased corrosion within our plumbing systems.

This program provides a broad overview of the effect of COVID-19 crisis and the unintended consequences of how this crisis has specifically affected plumbing systems.
| Access Date | Quiz Result | Score | Actions |
| --- | --- | --- | --- |