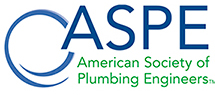 CPD Review Classes
Phoenix (Tempe), AZ - February 8-9
Atlanta, GA - February 22-23
Are you considering taking the Certified in Plumbing Design (CPD) Exam in the future? Have you been unsuccessful in passing the exam in the past? Join ASPE for these upcoming day-and-a-half events where the instructor will cover topics such as:
Q&A about the exam
Key terms and definitions
Review of the five domains (Gathering Information, Administration, Design, Specifications, and Construction Services)
The workshop includes a 15% coupon off a future ASPE bookstore purchase to stock up on your materials prior to the examination PLUS a practice test (a $50 member value). This class is not a plumbing design 101 course, and it is not intended to teach students the material required for the exam. This class helps students learn HOW to study for the exam. Because there will be a high-level overview of the domains and content areas, this class will enable students to become aware of areas they need to focus their attention on leading up to the exam. In turn, this class will be helpful to students in their preparations for the exam. The courses are $450 for ASPE Members and $650 for nonmembers.
What should you bring to the review class?
The calculator you intend to use during the CPD Exam (Candidates can bring in and use any non-programmable, battery-operated calculator into the exam.)
Any reference materials you intend to use during the exam (review the Open-Book FAQ page here)
Writing utensils (scratch paper will be provided for you)
Instructors

David Bailey, CPD, GPD, FASPE
David Bailey has been in the industry for more than 40 years and has been successful in designing plumbing systems for multi-residential and commercial projects. He has an extensive undergraduate education with baccalaureates from Frostburg State (1976) and the University of Maryland College of Engineering (1990) where he was inducted into Tau Beta Pi's national engineering honor society.
David has been an ASPE member since 1985 and originally earned his CIPE and EIT in 1990. He has served on the Washington, D.C. Chapter Board of Directors (1996-2002, 2014-2015, 2017-present) and is currently the Society's Bylaws Committee Chair. He was inducted into ASPE's College of Fellows in 2010. Since 1998, David has conducted annual CPD review classes in the Baltimore-Washington area. He also has conducted CPD review sessions for the Richmond and Philadelphia Chapters.
David is the instructor for the Atlanta, GA workshop.
Donald Taylor, CPD, GPD
Donald Taylor grew up in Purvis, Mississippi. He earned his bachelor's of Science degree in Architectural Engineering Technology at the University of Southern Mississippi in 1999 and has also been an ASPE member ever since. Donald began his career as a plumbing designer in Houston and began by designing different types of local commercial projects. After two years, he advanced to senior plumbing designer at one of the largest AE firms in the world. In 2002 he earned his CPD credential with just 3 years' experience in the industry. It was just after, in 2004, that he decided to start helping other designers in Houston prepare for the CPD exam. Donald conducts annual CPD classes for the Texas region which has expanded to the southeast region of the United States.
Donald's ASPE involvement includes serving as a delegate for the Houston Chapter in 2004, 2010-2014, and 2018. He is currently the Vice President Technical and Education Chair for the Houston Chapter and has been on their board of directors since 2015. He has served as chair and co-chair of their annual ASPE Houston Product Show, which is one of the largest ASPE chapter product shows. He was instrumental in helping launch the Oklahoma City Satellite Chapter where he served as interim president for two years.
Donald is currently with HOK as a senior plumbing designer.
David is the instructor for the Phoenix, AZ workshop.
Class locations:

Piping Industry Progress & Education
125 S. 52nd Street
Tempe, AZ 85281 (map)


Newcomb & Boyd
303 Peachtree Center Ave NE, Suite 525
Atlanta, GA 30303
Travel and lodging
ASPE does not have preferred hotels for these classes. Do not plan your return air travel for any earlier than 3 p.m. the day the class concludes. Nearby hotels:
Tempe, AZ - surrounding hotels here
Atlanta - Hyatt Place Atlanta/Downtown - website here
Atlanta - Hilton Atlanta - website here
Miscellaneous and FAQs
CEUs/PDHs are not awarded for this class.
Participation in this class is not a guarantee to pass the CPD or CPDT Exam.
Participation in this class does not include CPD or CPDT Exam registration.
Classes are limited to 20 students.
Registration closes the week prior to the start of the class.
Class will not be broadcast or available for virtual/remote participation.
Review classes are only being held in Phoenix, AZ and Atlanta, GA
Lunch will be provided on both days.
Registration is not available for partial class participation.
Registration is NOT transferrable and proper ID is required. Only the person registered for the class is permitted to participate.
Registration includes a 15% coupon off a future ASPE bookstore purchase to stock up on your materials prior to the examination, valid through 4/1/20.
Questions? Email certification@aspe.org or call 224-217-9016.
Classes
There are no products which match your search criteria.
| Access Date | Quiz Result | Score | Actions |
| --- | --- | --- | --- |