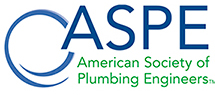 CPD Review Classes
Class will be held virtually February 18th, 19th and March 25th from 10 am - 3 pm CST daily with Donald Taylor

Are you considering taking the Certified in Plumbing Design (CPD) Exam in the future? Have you been unsuccessful in passing the exam in the past? Join ASPE for these virtual review classes where the instructors will cover topics such as:

A review of CPD Study Guide
Q&A about the exam
Key terms and definitions
Review of the five domains (Gathering Information, Administration, Design, Specifications, and Construction Services)
The workshop includes a CPD practice test on the last day of class (a $50 member value). This class is not a plumbing design 101 course, and it is not intended to teach students the material required for the exam. This class helps students learn HOW to study for the exam. Because there will be a high-level overview of the domains and content areas, this class will enable students to become aware of areas they need to focus their attention on leading up to the exam. In turn, this class will be helpful to students in their preparations for the exam. The courses are $300 for ASPE Members and $500 for nonmembers. (Find information on ASPE Membership here).
This event will be held over the course of three days each for a period of 5 hours. The instruction time is roughly 4 hours per session, plus breaks, for a total of 5 hours. Students will take the CPD Practice Exam on the last day then discuss. Partial registration is not available.
What should you bring to the virtual review class?
The calculator you intend to use during the CPD Exam (Candidates can bring in and use any non-programmable, battery-operated calculator into the exam.)
Any reference materials you intend to use during the exam (review the Open-Book FAQ page here)
Writing utensils and scratch paper will be provided for you
Instructors

Donald Taylor, CPD, GPD

Donald Taylor grew up in Purvis, Mississippi. He earned his bachelor's of Science degree in Architectural Engineering Technology at the University of Southern Mississippi in 1999 and has also been an ASPE member ever since. Donald began his career as a plumbing designer in Houston and began by designing different types of local commercial projects. After two years, he advanced to senior plumbing designer at one of the largest AE firms in the world. In 2002 he earned his CPD credential with just 3 years' experience in the industry. It was just after, in 2004, that he decided to start helping other designers in Houston prepare for the CPD exam. Donald conducts annual CPD classes for the Texas region which has expanded to the southeast region of the United States.
Donald's ASPE involvement includes serving as a delegate for the Houston Chapter in 2004, 2010-2020. He is currently the President of the Houston Chapter and has been on their board of directors since 2015. He is also on the Society Education Committee. He has served as chair and co-chair of their annual ASPE Houston Product Show, which is one of the largest ASPE chapter product shows. He was instrumental in helping launch the Oklahoma City Satellite Chapter where he served as interim president for two years.
Miscellaneous and FAQs
CEUs/PDHs are not awarded for this class.
Each class consists of three days of training. See times at the top of this page for dates/times, or the respective class pages.
Participation in this class is not a guarantee to pass the CPD or CPDT Exam.
Participation in this class does not include CPD or CPDT Exam registration.
Classes are limited to 30 students.
Registration closes the week prior to the start of the class.
Classes are virtual and held via ASPE Education / Zoom.
Registration is not available for partial class participation.
Registration is NOT transferable.
Questions? Email certification@aspe.org
Classes
There are no products which match your search criteria.
| Access Date | Quiz Result | Score | Actions |
| --- | --- | --- | --- |