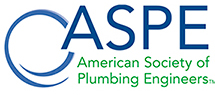 Read, Learn, Earn
Every month ASPE publishes a new 12-question quiz with an accompanying chapter or article from one of our publications. Each quiz is available for twelve months. Each quiz is free for ASPE Members and $35 for nonmembers. Through this special series, ASPE can help you accumulate the CEUs required for maintaining your Certified in Plumbing Design (CPD) or Certified Plumbing Design Technician (CPDT) status or numerous regulatory-agency CE programs.
Enroll in Notifications
At the start of each month you can be reminded that the newest RLE article is available for download. Register for this product to be notified via email that the newest article and quiz is available. If you previously opted in to receive these notifications your information was included so you do not need to register again.
Registered Ohio Professional Engineers:
Click here to review the state's continuing professional development policy and the limits to technical articles. Ohio refers to their continuing education as continuing professional development (CPD) and is not to be confused with the CPD acronym or Certified in Plumbing Design. Read more about the renewal process here. ASPE's Read, Learn, Earn self-paced articles would be considered a correspondence course in the state of Ohio.
| Access Date | Quiz Result | Score | Actions |
| --- | --- | --- | --- |