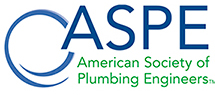 CPD Review Webinar Series
Register

Non-member - $500
Member - $250
Member Officer - $250
This four-part webinar series provides an overview to the CPD Examination and the five domains. This series is a supplement to your studies and should not be your only means for preparation.
Webinar 1
Gathering Information
Administration
Webinar 2
Storm and Site Drainage
Domestic Cold Water
Domestic Booster Pumps

Webinar 3
Domestic Hot Water Supply
Domestic Hot Water Recirculation
Webinar 4
Fire Protection Systems
Fuel Gas, Medical Gas
Specifications
Construction Services

The Presenter: David DeBord, CPD, FASPE, LEED AP BD+C, GPD, ARCSA-AP, CFPS is ASPE's former Vice President Technical and a Past-President of the Chicago Chapter of ASPE, and an Adjunct Assistant Professor at Illinois Institute of Technology. He is also a member of the American Solar Energy Society (ASES), American Rainwater Catchment Society of America (ARCSA), the Geothermal Heat Pump Consortium (GHPC), USGBC, and serves on ASPE Society committees, including the Technical and Research Committee. He is a Certified Solar Installer. His work has been published in several magazines, including PS&D, PME, and CSE, as well as 3 chapters in ASPE Plumbing Engineering Design Handbooks. He started in the consulting engineering field in 1972.