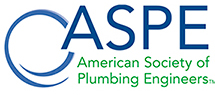 2020 Revit MEP Virtual Workshop - June 19 - SOLD OUT
Introduction to Revit 2020 HVAC, Plumbing & Piping
June 19, 2020 - 8 am - 4 pm PDT

This full-day virtual training is designed for mechanical / plumbing designers to help you get your Revit 2020 projects to the next level. If you want to know how to get the project started and understand how to maximize your workflow, this is the class for you. We will discuss how to get started properly to optimize your project workflow. Students will be sent a link to sign in to a computer which has the Revit software installed and ready for use.
Contact education@aspe.org with any questions. If you need to register for an account as a nonmember or new member visit https://www.aspe.org/requestaccount/ to begin.
Revised May 7, 2020:
Training Prerequisites
Basic knowledge of and experience using Revit MEP software to complete the following tasks:
Create a NEW project from an EXISTING Template
Ability to place plumbing fixtures and equipment in a Revit model
Have created and modeled a basic Pipe System in Revit MEP
Experience populating data in a schedule view
Project Overview and Setup
Working with Revit Links

Setting up Levels
Copy/Monitor Grids and Levels
Controlling Visibility Graphics of Linked Models

Create Details
Insert Views from File
Creating Filters

Piping and Equipment related

Defining custom Pipe Systems
Setting up custom Pipe Types
Plumbing
Create custom fixture/pipe tag
Enhance 2D Family appearance
Setup a custom Plumbing Fixture Schedule
Sloped piping review/best practices
Creating plumbing isometrics
Instructors vary IMAGINiT instructors provide instruction for this one-day training where they use their experience to help clients design, implement, and customize effective building information modeling (BIM) solutions to meet their business objectives. All IMAGINiT instructors are thoroughly vetted and trained on Revit software and provide support to IMAGINiT customers throughout the world.
Miscellaneous

Click here for full information and other general FAQs about the event (fees, confirmations).
Class is limited to 8 students.
Learning Assessment method(s): In-course, hands-on problem solving examples / hands-on computer software training

Students will participate virtually in the workshop via WebEx software. Students are NOT REQUIRED to have the Revit software installed on their computer. The students will use WebEx software to remote into a computer which will have the Revit software and all associated files pre-loaded on to the computer.

Credits: 6.5 PDH or 0.65 CEUs will be awarded for this workshop
There will be a break midday for ~60 minutes
Costs/Refunds/Cancellations: Please see our website for this information at: https://education.aspe.org/mor...
Lunch, light snacks, and beverages will be provided
Questions? Email education@aspe.org or call at 224-217-9016
Day of logistics:
You will be provided with a day-of contact in case of issues, you will receive this via email
The proposed schedule is:

8:00-10:00 am: Class
10:00-10:15 am: 15-min break
10:15 am -12:00 pm: Class
12:00-1:00 pm: lunch break
1:00-2:30 pm: Class
2:30-2:45 pm: 15-min. break
2:45-4:00 pm: Class

It is recommended that you join the audio via headset so the instructor and other attendees can hear you
You will not need a webcam
You will participate in the workshop as a combination of lecture and working through a virtual computer station pre-loaded with Revit
You'll be required to complete a brief quiz after the program is over to receive your 0.65 CEUs
The software used to deliver LIVE Online training has minimal hardware / software requirements. The reliability and speed of your internet connection is the most critical requirement. We recommend that you have, at minimum, a DSL connection providing greater than 56kbs of sustained throughput to eliminate drag issues caused by a slow internet connection. If your internet connection is shared with other users or if you are running additional applications over the connection (VOIP phone, VPN, etc.) a higher speed connection may be required. We recommend you test your system configuration and internet connection prior to the class starting. Our software vendor provides a system test at the following URL: http://www.webex.com/lp/stest/index.php?t=ppuUS.
Key:

Complete

Next

Failed

Available

Locked
Revit Workshop - June 19 at 8 am PDT
06/19/2020 at 10:00 AM (CDT) | 420 minutes
06/19/2020 at 10:00 AM (CDT) | 420 minutes
You will participate in the training via WebEx. ***Please use a headset for the best audio quality.***
5 Questions | 3 attempts | 4/5 points to pass
5 Questions | 3 attempts | 4/5 points to pass
0.65 CEUs credits | Certificate available
0.65 CEUs credits | Certificate available
| Access Date | Quiz Result | Score | Actions |
| --- | --- | --- | --- |