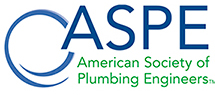 COVID-19 Impact to Plumbing Systems Webinar
COVID-19 Impact to Plumbing Systems Webinar
May 26 at
1 pm CDT


Free webinar for members

"People think that water is simple, but it is highly complicated." - David LaFrance, CEO, American Water Works Association. This program provides a broad overview of the effect of COVID-19 crisis and the unintended consequences of how this crisis has specifically affected plumbing systems. The program will review the concerns that the plumbing and water industries have been bringing up continuously for the last several months since this crisis started and give the audience some tools to develop 2nd Order Thinking skills.

Content Outline:

• Christoph Lohr - Introductions & 2nd Order Thinking Concept Overview and unintended consequences of retrofitting manual faucets to hands-free faucets without changing piping, (5 minutes)
• Andrew Whelton - COVID-19 impact on municipal water supplies and vacant buildings, overview best flushing practices prior to occupancy, and testing requirements (10 minutes);
• Matt Freije - non-healthcare spaces to healthcare spaces from a plumbing perspective, and when supplemental disinfection is needed (15 minutes);
• Scott Steindler - Impact of COVID-19 to sanitary systems (15 minutes);
• John Gregory - Impact of COVID-19 impact to medical gas (10 minutes);
• Q&A - (+10 Minutes)

Upon successful completion of the course learners will be able to:

• Learn about 2nd Order Thinking and why it is important to ask "And then what?"
• Identify how moving to touch-less faucets to prevent surface transmission of COVID-19 means that plumbing pipe routing will need to change;
• Describe the plumbing concerns of converting non-healthcare spaces into healthcare spaces;
• Identify the concern of stagnant water in buildings (e.g. hotels) and why flushing systems is important
• Understand how flushing of buildings may not be enough to prevent an outbreak of waterborne pathogens;
• Identify the concern of COVID-19 in sanitary systems and at wastewater treatment plants;
• Explain how COVID-19 can potentially impact existing medical gas systems and why evaluations are needed.

This presentation does award PDH credits in the state of New York. Updated 5/26/20.

Fees:

Members - FREE!
Nonmembers - $130
Christoph Lohr (Moderator)
Christoph, based in Phoenix, has over 10 years of experience in engineering plumbing systems. Christoph's current responsibilities as Director of Education and Strategic Projects for LiquiTech is to expand awareness and knowledge and win support from influential stakeholders. Christoph's professional activities in the industry extend into multiple volunteer associations, of which he has also assumed leadership roles, such as Chair of the ASPE Legionella Working Group and Chair of the PIPE Trust of Arizona Safe Water Committee, he is committed to leading the industry to providing drinking water that does not negatively impact public health. His passion for public health stems from his mother, a registered nurse, and he is actively speaking on the topic at numerous conferences, webinars, and podcasts, and also writing in an effort to educate and open a dialogue within the industry.
$i++ ?>
John Gregory
John Gregory from Henderson Engineers and Henderson Building Solutions has extensive experience in the Medical Gas Systems Design and Inspections, Legionella programming, Process Piping, Plumbing and Fire Protection Systems for multiple business classes. John is a Principal member of the NFPA 99 Technical Committee, and a member of the NITC SME committee helping to develop test questions for Medical Gas Installers, Inspectors, Verifiers and Maintenance individuals. John is also one of the Co-Chairs for the Local P.I.P.E. Medical Gas Committee where they help steer medical gas installation and codes in the State of Arizona. John writes a column in pme magazine called "Collaborative Health Care", and hosts a Med Gas Design Group in LinkedIn.
$i++ ?>
Matthew Freije
Matt Freije is the founder and CEO of HC Info and the content director for LAMPS, its cloud-based software for Legionella water management plans, data analytics, monitoring, and training. He has provided Legionella education and information since 1995.
$i++ ?>
Scott Steindler
Scott Steindler is a Regional Manager for Watts Water Technologies, specializing in the Blucher line of Stainless Steel Pipe and Drainage Systems. His background includes working in the plumbing industry as a Wholesaler, Contractor, Designer, and Manufacturers' Representative. Scott is currently the ASPE Region IV Director, and has served as the Vice-President of Membership and Vice-President Technical for the Society Board of the American Society of Plumbing Engineers; he has also served on the local board of directors for the Los Angeles, Charlotte, and New Orleans Chapters of ASPE. Scott has earned his CPD, GPD, LEED-AP BD+C, and ARCSA-AP (IS), and GGP accreditations during his career as a plumbing designer. He currently resides in Azusa, CA.
$i++ ?>
Andrew Whelton
Andrew Whelton, Ph.D. is an associate professor of Civil, Environmental, and Ecological Engineering at Purdue University. He leads national building water safety efforts backed by the National Science Foundation, Environmental Protection Agency, public health and plumbing technology sectors. More information can be found at www.PlumbingSafety.org.
$i++ ?>
Key:

Complete

Next

Failed

Available

Locked