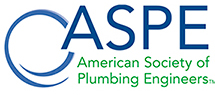 New Technologies for Legionella and Pathogen Control
Recorded On: 06/19/2019

New Technologies for Legionella and Pathogen Control
Original air date: June 19, 2019 -

FREE to ASPE Members
This program provides an introduction into the key pathogenic organisms of concern in domestic water systems. The program will review the basics of bacteria and other microorganisms. The different methods of controlling Legionella/pathogen levels in plumbing systems and cost comparisons (with pros and cons) will be covered in detail with sample problems for the participants to complete.
Content Outline:
Common bacteria in our domestic water systems
Legionella

Risk levels
Why people are paying attention
Controlling Legionella in building systems

Current methods of control

Monochloramine
Copper silver
Chlorine dioxide

New solution, ultrafiltration

Details on new technology
Point-of-use
Hot Water Recirculation
Point-of-entry
Case Studies
Cost comparison
Upon successful completion of the course participants will be able to:
Identify "acceptable" levels of Legionella
Describe the CMS Memo on water systems in healthcare facilities
Explain the basics of Legionella as well as other bacteria and microorganisms
Explain different methods of controlling Legionella/pathogen levels in plumbing systems as well as their pros and cons
Calculate cost comparisons with other technologies (chemicals, copper silver, etc.)
Accurately apply to point-of-use, point-of-entry (whole building), and hot water loops to control bacteria and nutrient levels
Understand how the systems are installed and maintenance requirements
Demonstrate case studies of installations
The Presenter: Andrew Paulsen

Andrew has been working in water treatment for 14 years with Water Control Corporation company. He is currently the lead design technical and regional sales manager. As a Mankato State University alumnus, Andy has many years of industry experience. Andy has experience as a pipe fitter, project estimator/manager and product technical specialist. Andy has worked on the design, construction, installation, and commissioning of hundreds of commercial water treatment systems including softening, high purity water, filtration, disinfection and water reclaim equipment. Water Control is a 46-year-old industry leading manufacturer with thousands of water treatment systems installed nationwide. Currently, they are very active in legionella and pathogen control, water reclamation systems (rainwater, graywater, condensate, etc) and high purity water systems (reverse osmosis and deionized water) for commercial, industrial and institutional applications.




This webinar is sponsored by:
The sponsor receives attendees' names and email addresses for those that sign up for the live webinar.
Key:

Complete

Next

Failed

Available

Locked