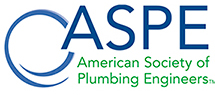 2021 Plumbing Engineering Design Handbook, Volume 1: Fundamentals of Plumbing Engineering
Register

Member - Free!
Member Officer - Free!
VOLUME 1: FUNDAMENTALS OF PLUMBING ENGINEERING

Chapter 1: Formulas, Symbols, and Terminology
Chapter 2: Standards for Plumbing Materials and Equipment
Chapter 3: Specifications
Chapter 4: Plumbing Cost Estimation
Chapter 5: Job Preparation, Drawings, and Field Checklists
Chapter 6: Plumbing for People with Disabilities
Chapter 7: Energy and Resource Conservation in Plumbing
Chapter 8: Corrosion
Chapter 9: Seismic Protection of Plumbing Systems
Chapter 10: Acoustics in Plumbing
Chapter 11: Basics of Value Engineering
Chapter 12: Ensuring High-Quality Plumbing Installations
Chapter 13: Existing Building Job Preparation
Chapter 14: Building Information Modeling
The Plumbing Engineering Design Handbooks are for ASPE members only. If you are not an ASPE member, please visit the ASPE bookstore to purchase any or all of the four volumes.
Key:

Complete

Next

Failed

Available

Locked
Open to download resource.
Open to download resource.