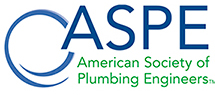 2019 Plumbing Engineering Design Handbook, Volume 3: Special Plumbing Systems
Register

Member - Free!
Member Officer - Free!
VOLUME 3: SPECIAL PLUMBING SYSTEMS

Chapter 1: Fire Protection Systems
Chapter 2: Plumbing Design for Healthcare Facilities
Chapter 3: Treatment of Industrial Waste
Chapter 4: Irrigation Systems
Chapter 5: Reflecting Pools and Fountains
Chapter 6: Public Swimming Pools
Chapter 7: Gasoline and Diesel Oil Systems
Chapter 8: Steam and Condensate Piping
Chapter 9: Compressed Air Systems
Chapter 10: Solar Energy Systems
Chapter 11: Site Utility Systems
Chapter 12: Laboratory Gases
The Plumbing Engineering Design Handbooks are for ASPE members only. If you are not an ASPE member, please visit the ASPE bookstore to purchase any or all of the four volumes.

Key:

Complete

Next

Failed

Available

Locked
Open to download resource.
Open to download resource.