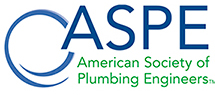 2018 Plumbing Engineering Design Handbook, Volume 2: Plumbing Systems
Register

Member - Free!
Member Officer - Free!
VOLUME 2: PLUMBING SYSTEMS

Chapter 1: Sanitary Drainage Systems
Chapter 2: On-Site Wastewater Reuse
Chapter 3: Vents and Venting Systems
Chapter 4: Storm Drainage Systems
Chapter 5: Cold Water Systems
Chapter 6: Domestic Water Heating Systems
Chapter 7: Fuel Gas Piping Systems
Chapter 8: Private On-Site Wastewater Treatment Systems
Chapter 9: Private Water Wells
Chapter 10: Vacuum Systems
Chapter 11: Water Treatment, Conditioning, and Purification
Chapter 12: Special Waste Drainage Systems
Chapter 13: Rainwater and Stormwater Harvesting
The Plumbing Engineering Design Handbooks are for ASPE members only. If you are not an ASPE member, please visit the ASPE bookstore to purchase any or all of the four volumes.

Key:

Complete

Next

Failed

Available

Locked
Open to download resource.
Open to download resource.