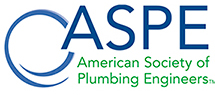 Plumbing Engineering Design Handbook Vol. 4 Plumbing Components and Equipment
Plumbing Engineering Design Handbook Volume 4 2016 Edition for members only. If you're a nonmember please visit the ASPE bookstore to purchase any or all four volumes. You'll be notified once the 2020 edition is available for download. You must be a member to access any and all PEDH volumes on this site.
VOLUME 4: PLUMBING COMPONENTS AND EQUIPMENT

Chapter 1: Plumbing Fixtures
Chapter 2: Piping Systems
Chapter 3: Valves
Chapter 4: Pumps
Chapter 5: Piping Insulation
Chapter 6: Hangers and Supports
Chapter 7: Vibration Isolation
Chapter 8: Grease Interceptors
Chapter 9: Cross-Connection Control
Chapter 10: Water Treatment
Chapter 11: Thermal Expansion
Chapter 12: Potable Water Coolers and Central Water Systems
Chapter 13: Bioremediation Pretreatment Systems for Fats, Oils, and Grease
Chapter 14: Green Plumbing
Key:

Complete

Next

Failed

Available

Locked
Open to download resource.
Open to download resource.