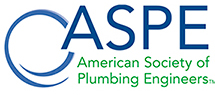 Plumbing Engineering Design Handbook Vol. 1 Fundamentals of Plumbing Engineering
Plumbing Engineering Design Handbook Volume 1 2017 Edition for members only. If you're a nonmember please visit the ASPE bookstore to purchase any or all four volumes. You'll be notified once the 2021 edition is available for download. You must be a member to access any and all PEDH volumes on this site.
VOLUME 1: FUNDAMENTALS OF PLUMBING ENGINEERING

Chapter 1: Formulas, Symbols, and Terminology
Chapter 2: Standards for Plumbing Materials and Equipment
Chapter 3: Specifications
Chapter 4: Plumbing Cost Estimation
Chapter 5: Job Preparation, Drawings, and Field Checklists
Chapter 6: Plumbing for People with Disabilities
Chapter 7: Energy and Resource Conservation in Plumbing
Chapter 8: Corrosion
Chapter 9: Seismic Protection of Plumbing Systems
Chapter 10: Acoustics in Plumbing
Chapter 11: Basics of Value Engineering
Chapter 12: Ensuring High-Quality Plumbing Installations
Chapter 13: Existing Building Job Preparation
Chapter 14: Building Information Modeling
Key:

Complete

Next

Failed

Available

Locked
Open to download resource.
Open to download resource.